The Frederick Press aims to bring critical thinking back into the news.
The Frederick Press is meant to challenge business professionals to think critically when examining the news being presented to them, with the ultimate ambition of being able to make their own News. We aim to generate a movement among business leaders using the Frederick Douglass' self-made man concept and create a Douglass Leadership and Entrepreneurial Institute in every state, underwritten by two prominent individuals.
Our Interracial Business Professional Team Objectives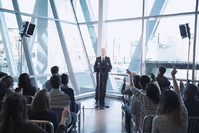 Provide current news to elicit open discussion and social activism on topical issues
Assist readers in challenging the New Age news approach, thus prompting a commitment to be a change agent in their personal Circle of Influence
Assist readers to become news makers whereby they become vehicles of change, thus enacting the Founding Father commission of & "We the People..."
Every great dream begins with a dreamer. Always remember, you have within you the strength, the patience and the passion to reach for the stars to change the world."
- Harriet Tubman

Great minds discuss ideas; average minds discuss events; small minds discuss people."
- Eleanor Roosevelt